MARTIAL ARTS INSTRUCTION
CHINESE KUNG FU KARATE SELF DEFENSE
The Street Smart Self Defense Academy offers martial arts instruction in the style of Chinese Kung Fu Karate Self Defense -- a blend of Shotokan Karate (Japanese) and Kun Tao Kung Fu (Chinese). The style is currently headed by Master James Kehl, a 5th degree Black Belt, and the systems highest ranking member.
Chinese Kung Fu Karate Self Defense is unique in that it blends both hard and soft martial elements into one system. Emphasis is strongly placed on street smarts and self defense skills.
Accepting New Students
EMAIL US FOR MORE INFORMATION!! rcheeseman72@yahoo.com
Weekly Martial Arts Classes held on Mondays
from 6 - 7:30 p.m.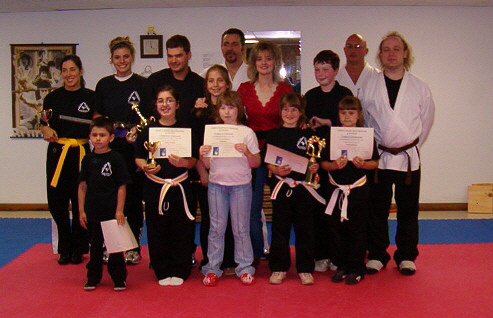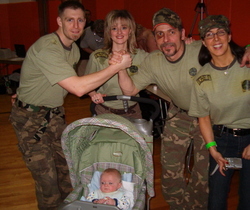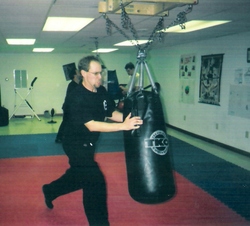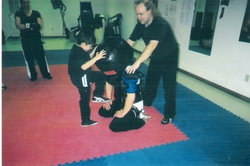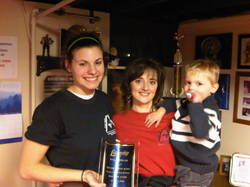 Above: Kylie Dolak received the "Leadership Award" along with her official induction into the Street Smart "Hall of Fame" on January 4, 2010
Below: Street Smart students lead the march against Domestic Violence for Safenet, October, 2004
Interested in Attending a Class? Contact Rachel Cheeseman via email rcheeseman72@yahoo.com
RECENT PROMOTIONS:
August, 2017
Nathaniel Gay
(Green Belt 1st Degree)
SMALL GROUP INSTRUCTION
Promotes a relaxed, semi-formal environment to help each student advance to his or her ultimate potential without feeling self conscious or "left out".